FALL 2021
REGISTRATION OPEN – LEARN MORE about our Fall progams
Let us know what works for your family.
ONLINE SPANISH CLASSES FOR KIDS

– LEARN MORE
Try a class – Trial is $15.00
Not your typical Spanish Class……….
Curriculum is designed with fun in mind! Your child will learn Spanish through movement and activities at every age level. Spanish Exploradores is offering introductory Spanish classes from infants to Middle School Students (6th). Topics are always new – while also incorporating basics like numbers, colors and greetings.
Baby/Caregiver and me preschool Spanish Class for infants, toddlers and preschoolers, KolaExploradores, is a play-based Spanish class that keeps your little kola busy with songs, dancing, story-time and crafts.
Exploradores 2nd – 6th grade, are fun-packed Spanish classes for elementary school kids through 6th grade. Children are grouped by similar grade levels. They will become increasingly challenged each session as they learn to read, write and speak in complete sentences.
SPANISH CLUBS – Spanish classes at your local elementary school KINDERGARTEN – 6TH GRADE
LEARN MORE – SPANISH CLUB
What will my child learn?
During each 6-12 week session your child will:
Learn new vocabulary and phrases.
Practice speaking, not just repeating.
Learn to sing songs in Spanish.
Play games and do activities in Spanish.
Create a craft.
Have fun!
Spanish Classes for Infants, Toddlers & Kids
9 months to Kindergarten

Baby | Caregiver & Me




Preschool Spanish Class



Spanish for children from 9 months – 6 years old
Mommy agnd Me | Caregiver and Me
Play-based Spanish Class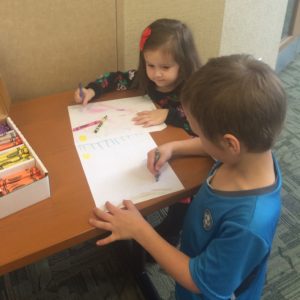 Drop in Available

Learn Spanish with your little one!
for 9 MONTHS – 6 years old
LOCATIONS:
Ardmore
Havertown
Newtown Square
ARDMORE | HAVERTOWN |  NEWTOWN SQUARE
FALL SESSIONS 2021 – Learn More
INDOOR
ARDMORE
Ardmore United Methodist Church, 200 Argyle Rd. Ardmore, PA 19003
NEWTOWN SQUARE ** TBD
OUTDOOR
Baby & Me Spanish
Tuesdays 11:10 – 11:50am
Dates Sept 14 – Nov 2 * Class is prorated
Paddock Park Pavilion, Havertown, PA
** NEW Drop in option **
Just send an email, no registration necessary!
$30.00 1st child, $15.00 for sibling
Questions email info@spanishexploradores.com or call 484.450.6729
Spanish Club
Indoor at your local preschool – LEARN MORE
Outdoor at Paddock Park Pavilion, Havertown, PA 19083
For 1st   – 5th grade
WHAT IS SPANISH EXPLORADORES ?
We teach Spanish to children using an activity and play based program with high frequency words to build mastery.
* games * music * crafts * singing * Beginners welcome !
SPANISH CLUB
Fall Theme:
Back to School/My Body: What do you use to write with ? What is your favorite subject ? How do you say eyes in Spanish ?
We'll introduce and review introductory phrases and vocabulary as well as phrases related to our theme, school and body parts.
Students will learn how to talk about every day items used for school and their body parts including some of their favorite things.
They'll also learn colors and numbers 1-20. We'll celebrate Fall by making a variety of Fall crafts. Each students will also each
receive a notebook with educational materials.
OUTDOOR – PADDOCK PARK PAVILION
Wednesdays 4:15 – 5:00pm
Dates : Sept 29 – Nov 17
LEARN MORE & REGISTER TODAY
Questions? Contact Us.
2200 Grasslyn ave. , Havertown, PA 19083 | Phone: (484) 450 – 6729