2200 Grasslyn ave. ,  Havertown, PA 19083 | Phone: (484) 450 – 6729 |
Contact us: info@spanishexploradores.com
Building community, one child at a time.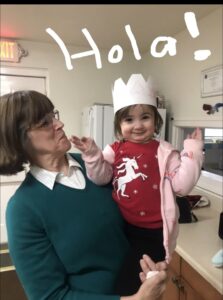 Winter 2022
REGISTRATION OPEN !
Check out our PROGRAMS
learn Why a 2nd Language is important and the benefits Read more
Give your child a gift that will last a lifetime.
Online classes for Ages 9 months – 12 years old.  Learn Spanish from the comfort of your family room.  Interactive and immersion style classes via Zoom.   Small class sizes.  *NEW* Canta Conmigo – Sing with me | for our youngest learners, Baby & Me Preschool Spanish and Spanish Club for elementary age students. LEARN MORE
Back September 2021 – AVENTURAS, outdoor Spanish Classes !  We'll meet in a outdoor location in Havertown, PA.  We"ll have fun learning while staying safe.  Classes for multiple age groups.  Parents too!  All classes are limited in size.  LEARN MORE
Join an immersion style Spanish class where kids learn to speak, not just repeat.  Spanish Exploradores offers age appropriate Spanish classes for children between ages of 9 months – 6th grade. LEARN MORE
Come play!
Baby|Caregiver and Me: Play-based Preschool Spanish classes for kids| 9 months to 6 years old.  Learn Spanish with your little one! Dads welcome 🙂 Join us for a class with your infant, toddler, preschooler or kindergartner.  First one is only $10! Email us to book your trial class. spanishexploradores@gmail.com
Do you run an early childhood development center or a preschool? Our Spanish Enrichment programs are designed for preschoolers and kindergartners.  We use a fun, interactive and immersion style teaching methodology.  Children learn language through experience, movement and performing an activity.  Online Spanish programs also available.  Contact us or complete THIS FORM to start your Preschool Spanish program today! info@spanishexploradores.com  LEARN MORE
Spanish Club is an enrichment activity offered at your local elementary school, preschool, day care, and before and after care programs.   If you would like to add a Spanish Enrichment to your school, click here to LEARN MORE
Learning PODS / Homeschool: age appropriate, custom classes and curriculum for your group.  Select a schedule that works best for your families.  Want to get your Spanish language program started today? Contact us or complete this form : info@spanishexploradores.com LEARN MORE
Join the FUN ! Wednesdays 9:30am on Facebook Live.  We'll sing songs, play a game and read a book all in Spanish.  Beginners Welcome!  LEARN MORE
Send your child on an Adventure!
Campers will learn Spanish and culture from 3 different countries.  We'll cook and try authentic Latin food.  During our crafting week, we'll make a house to take home. Ages 4 – 13 Beginners welcome! LEARN MORE
Language and culture go together!  Spanish Exploradores offers special cultural events in the community throughout the year such as Día de los Muertos – Day of the Dead, Día de los Reyes – Three Kings Day and Cinco de Mayo.
This SUMMER – Spanish Exploradores visits your local public library for Spanish story-time. LEARN MORE
---
Spanish Exploradores offers Spanish Classes for kids and adults living on the Main Line, Montgomery County, Delaware County: Wayne, Radnor, Ardmore, Wynnewood, Merion Station Bryn Mawr, Narberth, Haverford, Havertown, Springfield, Broomall and Newtown Square.
location: 2200 Grasslyn ave. ,  Havertown, PA 19083 | Phone: (484) 450 -6729
2021 Copywright Spanish Exploradores LLC.  All Rights Reserved